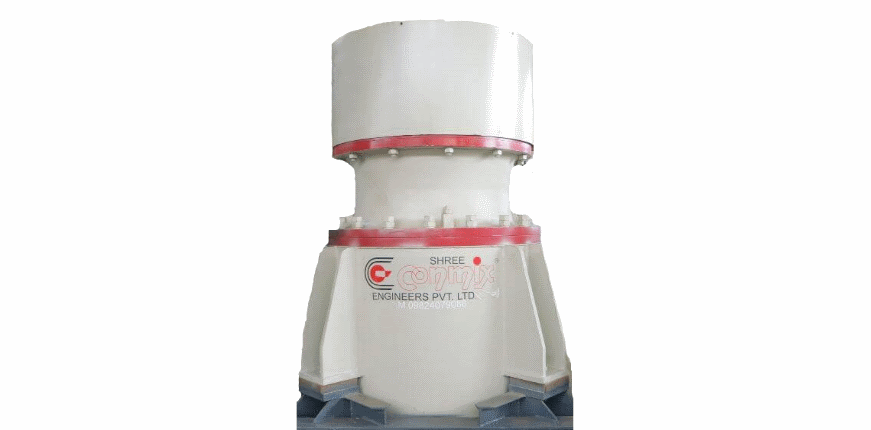 Cone Crusher
CONE CRUSHER
Cone Crusher is simplicity of design and rugged construction has made for ideal crushing operations by Shree Conmix Engineers Pvt. Ltd. For the most efficient and economical production, a wider range of Conmix Cone Crusher models are available for you yo choose from. The Cone Crusher has remarkable high nominal effective stroke and cavity range, which really brings great benefits and flexibility to the process. The large feed opening allows the possibility for the Conmix  Cone Crusher to be used as a secondary crusher as well.
Conmix Cone Crusher range of mobile cone crushers are suitable for secondary and tertiary crushing in direct feed applications. The range uses advanced Track Mounted Cone Crusher is to provide high volumes of excellently shaped product In Ahmedabad, India.
CONE CRUSHER WORKING PRINCIPLE
The working principle of Conmix Cone Crusher®  is to be useful for primary crushing, secondary crushing and final crushing as well.

With the higher production and higher quality, it is becoming more and more popular among construction companies. What's more, its lower cost and easier maintenance promote its popularity.

This Crusher is play an important role in different industries, such as construction industry, chemical industry and metallurgical industry. It can be used to crush both hard and medium hard materials, such as limestone, iron ores and copper ores. When it comes to its production cavity, it is based on the types of the materials.

The main parts of this Crusher is transmission device, crushing cone, bowl-shaped bearing, frame and hollow eccentric shaft. Besides, the size of the crushed materials is adjustable. You can adjust the discharge opening by the springs and hydraulic pressure station to produce materials which are suitable for your project.

When the Crusher is operated, the powerful motor drives the shaft. Then the shaft will force the axle of crushing cone wings to swing and the crushing wall will move against each other.

Finally, the materials will be pressed and crushed. The materials which are in suitable size will drop through the discharge opening. Compared with other crushers, the working principle of cone crusher is more powerful.

Shree Conmix Engineers Pvt. Ltd. is a famous for Cone Crusher® manufacturers in India which was established in 1990. Our  Cone Crusher® have been sold overseas with its high quality and effectiveness. You are welcomed to contact us via email or phone and we are waiting for your visit at any time.
Mining
Aggregate
Demolition
Construction
Environmental
Granite, River gravel
Reduced no-load head spin
Increased reliability
Reduced maintenance
 More efficient use of electrical power
First Indigenous manufacturer of track mounted mobile crushing plant with cone crusher.
Quick replacement of wear parts.
Specially designed crushing chamber gives constant high production & uniform gradation throughout the wearing life.
Hydraulic gap adjustment. And Bearing system permits higher R.P.M.
Higher fulcrum point and increased throw perform more work per cycle.
New tramp release system provides better protection from mechanical overload.
New hydraulic adjust system allows faster bowl removal and less maintenance.
New head nut installs easier and faster
Reduced no-load head spin.
Productivity and consistency.
More efficient use of electrical power.
Increased reliability and reduced maintenance.
Comment on "Cone Crusher"