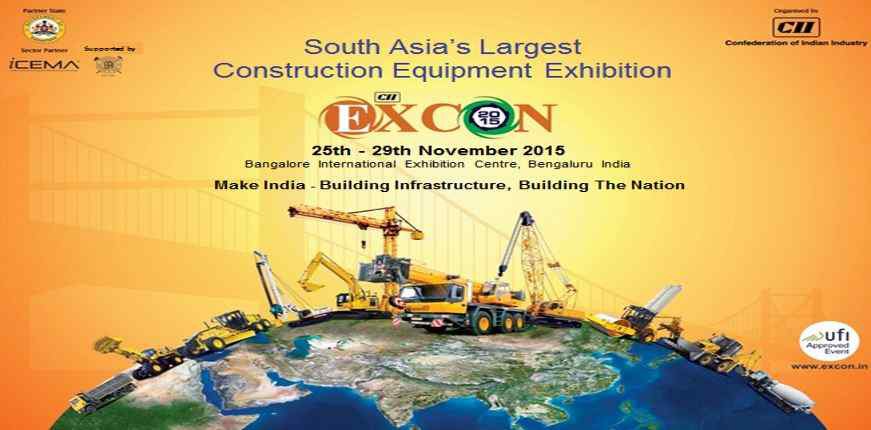 Excon-2015
Excon-2015
Confederation of Indian Industry (CII), India's premier industry association will be organizing Excon-2015. Shree Conmix Engineers Pvt Ltd. was participated in Excon-2015.
The 8th International Construction Equipment and Construction Technology Trade Fair, between 25th – 29th November 2015 at Bangalore International Exhibition Center, Bengaluru, India.
Presently in its 8th Edition, the International Construction Equipment and Technology Trade Fair is supported by the Indian Construction Equipment Manufacturers Association (ICEMA) as Sector Partner for the event.
Excon 2015, the premiere exhibition of Construction Equipment (CE), was held from 25-29 November in Bangalore, played a key role in positioning India as a global hub for construction equipment manufacturing.
Drawing 809 exhibitors from 22 countries, this edition witnessed the largest Industry and visitor participation since its launch in 2000, making Excon-2015 the biggest-ever  exhibition.
There were country  pavilions from China, Finland, Germany, Italy, South  Korea, Sweden, Turkey and  the UK, reiterating the potential of the Indian construction industry to grow t0 $5 marker share of $ ? 2.9 billion.
EVENT FACTSHEET

Largest Construction Equipment Exhibition in South Asia
2,50,000 Sq.mts of exhibition display area
UFI Approved Event
1000+ Exhibitors including 275 from Abroad
12 Country Pavilions China, Finland, Germany, Hongkong, Italy, South Korea, Sweden, Taiwan, Turkey, UK & USA
40,000+ Business Visitors
300+ Product Launches
Industry Conferences by CII, BAI and ICEMA
International Buying Delegates
B2B Meetings Networking Forums