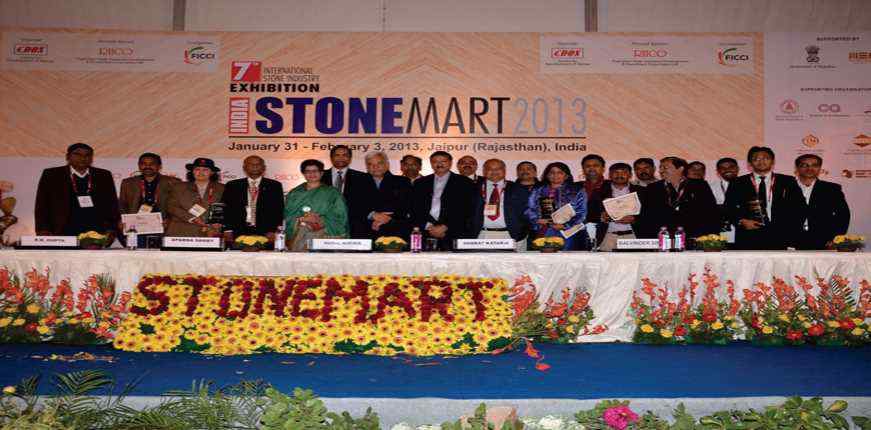 StoneMart 2013
StoneMart 2013
Shree Conmix Engineers Pvt Ltd. was successfully participated in StoneMart 2013. The India StoneMart 2013 was the 7th International Stone Industry Exhibition held between 31 January 2013 – 3 February 2013 and successfully concluded at Export Promotion Industrial Park, Jaipur, Rajasthan, India.
With abundant and practical activities, India StoneMart 2013 provided exhibitors an excellent platform to realize industry communication, brands promotion, market development, supply and demand, and provided opportunity for joint ventures as well as networking.
India StoneMart 2013 was the largest exposition on stone industry which showcased the world of natural dimensional stones, ancillary products and services, comprehensively, conveniently and competently.
It was an all encompassing expositional umbrella which brought together the who's and who's of stone industry not only from India but also globally.
The exhibition was organized by CDOS with FICCI as co-organiser, supported by the Government and sponsored by the biggest names in the sector from India and other countries as well.
Rajasthan State Industrial Development Investment Corporation Ltd., was the Principal Sponsor.
The Exhibitors Profile at Stonemart this year covers:

Stone Quarry Owners & Stone Processors
Value Added Stone Craft Units
Exporters & Importers of Natural Stone Products
Material Handling & Earthmoving Machineries Manufacturers
Abrasives & Industrial Chemicals
Transporters & other Service Providers for Stone Industry
Testing & Standardization Organizations
Technical Experts & Consultancy Organizations
Manufacturers, Traders & Exporters of Stone related Machineries & Equipments, Tools & Consumables
Trading & Marketing Organizations
Chambers of Commerce
Associations related to Stone Industry
Technical Press & Media