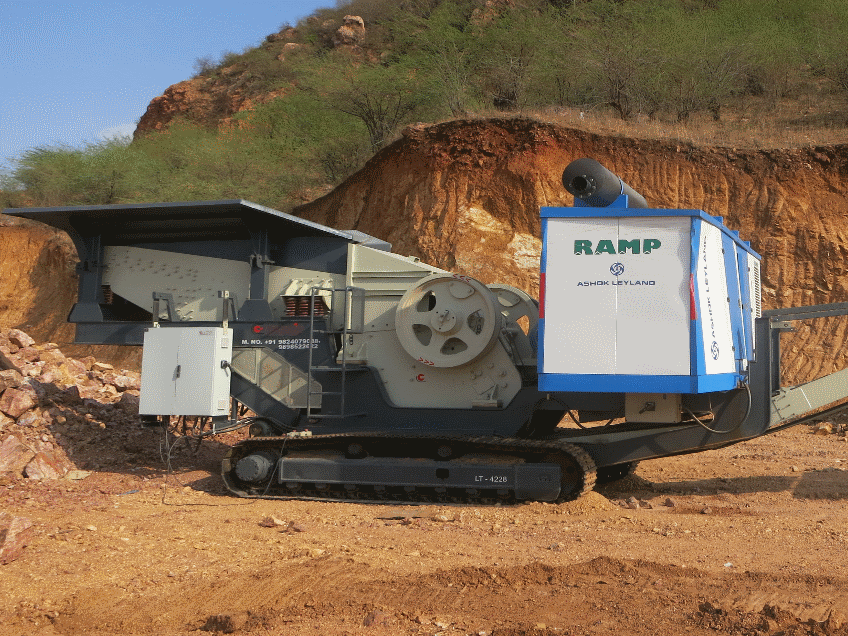 Shree Conmix Engineers Pvt Ltd. is the leading organization in the industry, highly engaged in manufacturing and supplying the best quality range of Track Mounted Jaw Crusher that is used for making artificial crushed sand.
The Track Mounted Crushing Plants are available with Jaw Crusher, Cone Crusher and Vertical Shaft Impactor, Micro Cone . We offer our LT Series Plants with options of electric driven or Hydraulic Driven.
SERVICE DETAILS
Track Mounted Jaw Crusher Plant Series is compact design and agility on track, drives it to lower transport and operating cost of crushing. The chassis design, with good clearance at both ends, enables safe and easy loading onto a trailer. Thanks to the feed hopper's removable sides the unit is ready for crushing or transport within minutes.
Track Mounted Plants With Jaw Crusher are built around the jaw crusher benefiting from proven, tested solutions through the latest product development and know-how. The sturdy, bolted and pinned design increases the durability of the crusher against shock loads. We have Developed the LT Series Plants with options of Electric Drives and Hydraulic Drives.
FEATURES
> Heavy duty and durable fabricated chassis.
> Stepped self-cleaning grizzly feeder.
> Compact
> Higher Ground Clearence
> Grizzly by-pass and fines chute.
> Optional in electric and hydraulics drive system.
> All service points are easy to access.
> Key points are equipped with grease hoses.
> Service platforms are located for easy component access
> Emergency stops are on both side and well marked and positioned.
> Minimum amount of dismantling necessary.
TECHNICAL SPECIFICATIONS
| | | | |
| --- | --- | --- | --- |
| Standard Equipments | LT 3220 | LT 3624 | LT 2842 |
| Transportation Dimension | | | |
| Length (mm) | 9000 | 9900 | 10900 |
| Width (mm) | 3300 | 3300 | 3500 |
| Height (mm) | 3400 | 3400 | 3400 |
| Crusher | | | |
| Intake Width | 32″ (800mm) | 36″ (900mm) | 42″ (1050mm) |
| Intake Depth | 20″ (500mm) | 24″ (600mm) | 28″ (700mm) |
| Hopper | | | |
| Volume (m3) | 4 | 4 | 6 |
| Width (mm) | 2800 | 2800 | 2800 |
| Loading Height (mm) | 3200 | 3600 | 4000 |
| Feeder | | | |
| Length (mm) | 2800 | 3200 | 4000 |
| Width (mm) | 900 | 1000 | 1100 |